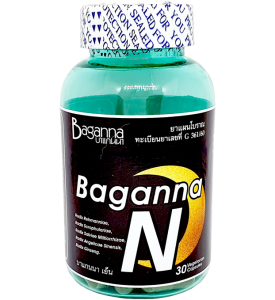 Baganna N
Baganna N เหมาะสำหรับคุณ ถ้าคุณมีอาการอย่างใดอย่างหนึ่ง

นอนไม่หลับ หลับได้ยาก หลับไม่สนิท
มีความเครียด วิตกกังวล หงุดหงิดง่าย ใจสั่น
มีอาการซึมเศร้า
Baganna N เป็นตำรับยาจากสมุนไพร ช่วยให้ระบบสมองสงบ ลดความเครียด การวิตกกังวล อาการซึมเศร้าและช่วยให้หลับเร็วและหลับได้นานขึ้น ซึ่งมีงานวิจัยสนับสนุนดังนี้
Radix Rehmanniae มีคุณสมบัติช่วยลดความเครียดและช่วยปรับปรุงความสามารถในการเรียนรู้และความจำ.1,2
Radix Scrophulariae มีคุณสมบัติปกป้องระบบประสาท.3
Radix Rhizoma Salviae miltiorrhizae มีคุณสมบัติช่วยให้นอนหลับไว้เร็วขึ้นและเพิ่มระยะเวลาการนอนหลับ.4
Radix Angelicae Sinensis มีสรรพคุณช่วยอาการซึมเศร้าและอาการวิตกกังวล6,7,8
Radix Ginseng มีสรรพคุณลดความเครียดและช่วยทำให้นอนหลับดีขึ้น9,10
วิธีรับประทาน
รับประทาน 2-3แคปซูล ก่อนนอน
Baganna Nเป็นสูตรตำรับโดยนายแพทย์ปิยะวัฒน์ ภูมิสุวรรณ ผลิตจากสมุนไพร 100% บรรจุในแคปซูลผัก ได้รับการตรวจสอบทางห้องปฏิบัติการตามมาตรฐานการผลิตยา ปราศจากสารเคมีและเชื้อปนเปื้อน
ขนาดบรรจุ 30 แคปซูล ราคา 1,900 บาท
Baganna N
You may need Baganna N, if you have one of these symptoms

Insomnia, difficulty to fall asleep, not sleeping well
Stress, anxiety, irritability, palpitations
Depression
Baganna N, herbal formula which can clam down nervous stress, palpitation, depression, induce falling asleep and maintain sleeping.  There are scientific supports for its properties.
Radix Rehmanniae Preparata has anti-anxiety property and can improve the learning ability and memory.1,2,3
Radix Scrophulariae has neuro-protective property.4
Radix Rhizoma Salviae miltiorrhizae can induce falling asleep faster significantly and increase sleeping time.5
Radix Angelicae Sinensis can help improve depression and anxiety6,7,8
Radix Ginseng has anti-stress effect and can induce sleeping
Dosage
Take 2-3 capsule at bedtime.
All herbal ingredients are checked in laboratory to confirm safety in medical grade and are proved that there is not any contamination. It formulated by Dr.Piyawat and produced from 100% natural herbal ingredients.
Packaging 30 capsules.  Price 1,900 Baht
Reference
Zhou Xi-Dan, Shi Dong-Dong, Zhang Zhang-Jin Ameliorative effects of Radix rehmanniae extract on the anxiety- and depression-like symptoms in ovariectomized mice: A behavioral and molecular study. Phytomedicine Volume 63, October 2019, 153012
Ying Cui, Chunlei Rong, Junming Wang. Mechanism-based anti-anxiety effects of polysaccharides extracted from Shudihuang (Radix Rehmanniae Preparata) by two-dimensional electrophoresis analysis in rat hippocampus proteins. Journal of Traditional Chinese Medicine 2013 August15;33(4):524-530
Zhiming Xia, Rui Zhang, Pingping Wu. Memory effect induced by beta-amyloid plus glutamate receptor agonist is alleviated by catalpol and donepezil through different mechanism. Brain Research 1441(2012): 27-37
Xiangbao Meng, Weijie Xie, Quanfu Xu. Neuroprotective Effects of Radix Scrophulariae on Cerebral Ischemia and Reperfusion Injury via MAPK Pathways. Molecules 2018, 23, 2401; doi:10.3390/molecules23092401
Sh.Fang, J.F.Haoc, H.Y.Zhou. Pharmacological studies on the sedative-hypnotic effect of Semen Ziziphi spinosae (Suanzaoren) and Radix et Rhizoma Salviae miltiorrhizae (Danshen) extracts and the synergistic effect of their combinations. Phytomedicine Volume 17, Issue 1, January 2010, Pages 75-80
Wenxia Gong, Shiwei Zhu, Congcong Chen. The Anti-depression Effect of Angelicae Sinensis Radix Is Related to the Pharmacological Activity of Modulating the Hematological Anomalies. Frontiers in Pharmacology, March 2019 vol. 10 article 192
Jun Shen, Junjian Zhang, Min Deng. The Antidepressant Effect of Angelica sinensis Extracts on Chronic Unpredictable Mild Stress-Induced Depression Is Mediated via the Upregulation of the BDNF Signaling Pathway in Rats. Evidence-Based Complementary and Alternative Medicine Volume 2016, Article ID 7434692, 8 pages
Si Wei Chen, Li Min, Wei JingLi. The effects of angelica essential oil in three murine tests of anxiety. Pharmacology Biochemistry and Behavior Volume 79, Issue 2, October 2004, Pages 377-382
Chung-Il Lee, Jin-Yi Han, Jin Tae Hong. 3,4,5-Trimethoxycinnamic acid (TMCA), one of the constituents of Polygalae Radix enhances pentobarbital-induced sleeping behaviors via GABAAergic systems in mice. Arch. Pharm. Res. (2013) 36:1244–1251
Kim Chung-Soo, Jo, Young-Jun, Park Se-Ho. Anti-Stress Effects of Ginsenoside Rg3-Standardized Ginseng Extract in Restraint Stressed Animals. Biomolecules & Therapeutics (2010) 18(2), 219-225