Scroll down for English
「天然美白成分」植物フェノールとは?
 植物フェノールは、植物によって生成される化合物です。フェノール化合物は、最も研究されている天然抗酸化物質の1つです。日光からの保護、抗炎症、抗酸化および修復メカニズムにおいて、皮膚に効果があることがわかっています。
 現在、植物性フェノールを含むスキンケア製品は、毎日のお手入れに大変推奨され、スキンケア製品における天然成分の需要も高まっています。太陽紫外線(UV)放射は、シミ、皮膚の老化促進、皮膚癌など、さまざまな皮膚トラブルを引き起こすと言われ、過剰に紫外線を浴びることは、炎症、酸化ストレス、DNA損傷を誘発し、皮膚トラブルを引き起こします。
私たちの皮膚は常に大気汚染などの過酷な環境にさらされています。
 日焼け止めを塗ることは、もう一枚、バリアを重ねるように、紫外線からお肌を守ります。植物フェノールは細胞レベルで肌に働きかけ、保護する事が出来るので、スキンケアに取り入れる事で更に予防ができます。
 ピヤワットクリニックは、より良い製品をお客様にお届けするために製品開発に取り組み、ホワイトニングクリームを開発し、この度、タイ政府厚生省から公式結果を受け取りました。
 ピヤワットクリニックのホワイトニングクリームには、高レベルの天然フェノール類(755.32㎎/㎏)と高レベルの抗酸化剤(30.29%)が含まれていることが証明され、細菌や重金属を含まれていない安全な商品と保証されています。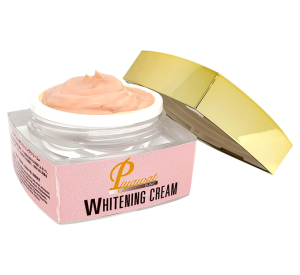 Plant phenolics are compounds produced by plants. Phenolic compounds are among the most studied natural antioxidant substances. They are found to be benefit for our skin in photoprotection, anti-inflammation, antioxidation and repair mechanism. Nowadays, skincare products contained plant phenolics are highly recommended for daily use. The demand for natural ingredients in skin care products is also increasing.
Studies have shown that solar ultraviolet (UV) radiation can induce various skin problems, such as pigments, premature skin ageing, and skin cancers. Our skin is directly exposed to the polluted atmospheric environment, and excessive UV radiation exposure induces skin problems and skin disorders caused by the induction of inflammation, oxidative stress, and DNA damage. Sunscreen acts to protect the skin from UV rays like the outer covering or umbrella. Plant phenolics protect our skin at the cellular level and play important roles in skin protection and skin care.
With our continue commitment in the best product development, Piyawat Clinic has developed a whitening cream. It has been tested by the Department of Medical sciences. The official results show   Piyawat Clinic's Whitening cream contained high level of natural phenolics (755.32 mg/kg.) with high antioxidant level (30.29%). For safety aspects, it also does not contain any bacterial and heavy metal contamination.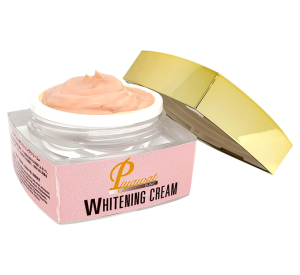 Direction: apply on face and neck twice daily
Active ingredients:

Indian Gooseberry (Phyllanthus Emblica) extract: the Indian Gooseberry is known to impart strong antioxidant activity and to protect human dermal fibroblasts against oxidative stress. It helps reduce wrinkles, suppresses pigmentation, and helps skin retain its natural moisture.
Mahad (Artocarpus lakucha) extract: MH enriched with natural compounds which showed tyrosinase inhibitory activity that means it can inhibit pigment production.
Tomato (Lycopersicon esculentum) extract: Tomato contains high minerals, Vitamin C Vitamin E and Lycopene which is an antioxidant that helps fight free radicals. it helps treat skin problems related to ageing and sun damage.
Aloe barbadensis extraxt: Aloe vera contains antioxidants, enzymes, and Vitamin C, and it is highly anti-inflammatory property. It can help treat burns and prevent photoaging.