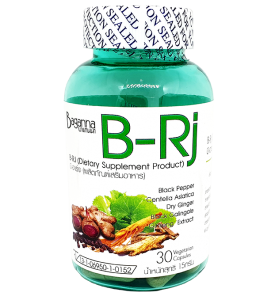 English (Scroll down)
日本語
"เสริมสร้างภูมิคุ้มกัน ลดความอ่อนล้า"
BRJ เป็นตำรับสมุนไพรที่ปรุงด้วยสมุนไพรที่มีงานวิจัยว่ามีคุณสมบัติ
ส่งเสริมภูมิคุ้มกัน9,11,12,13,14,15,16,20,21
บำรุงต่อมหมวกไต4,6,9,10,11,17,18,19
ซ่อมแซมDNAและเซลของร่างกาย1,2,3,5,7,8,9,22
BRJเหมาะสำหรับใคร
"ฉันเป็นหวัดง่าย"

"ฉันอ่อนเพลีย พักผ่อนไม่เพียงพอ"

"ฉันรู้สึกอ่อนเพลีย เหนื่อยล้า สมองไม่แล่น ในช่วงบ่าย"

"ฉันอยากกลับมากระปรี้กระเปร่าในช่วงเวลาทำงานเหมือนเมื่อก่อนที่เคยเป็น"

"ฉันรู้สึกเพลียเวลาเดินทางไกล"

"ฉันต้องการอ่อนวัยกว่าอายุจริง"

"ฉันเป็นไมเกรน"
ขนาดรับประทาน
รับประทาน 1 แคปซูล วันละ 1ครั้ง ก่อนอาหารเช้า หรือ อาหารกลางวัน
รับประทานเพิ่มอีก 1แคปซูล ก่อนนอน เมื่อมีอาการอ่อนเพลีย เป็นไข้หวัด หรือระหว่างเดินทางไกล
***หากสนใจผลิตภัณฑ์ กรุณานัดเพื่อปรึกษาแพทย์***
BRJ is an herbal formula that aims to repair damaged DNA & cells, support adrenal grand and enhance immunity. BRJ is designed to be the "Elixir of life".
Who should take BRJ? 
"I frequently have a cold or a flu"
"I feel weak and tired during the day especially in the afternoon"
"I need to have better mental concentration and alertness at work"
"I usually have mental dullness"
"I want to travel all over the world without fatigue"
DNA & cells Repair and Protection
"I wish to be younger than my chorological age"
How dos BRJ work?
BRJ is formulated from herbs with scientific research support. The herbal ingredients are not only selected to synergize the effectiveness but also to balance capability of each ingredient. BRJ ingredients are composed of Wild Radix ginseng (man shaped ginseng), Black pepper, Ginger, Black galingale and Asiatic pennywort. All herbs are carefully assorted by herbalist to obtain the best ingredients. The herbs are compounded to get BRJ, an herbal supplement for our purpose:
DNA & cells Repair and Protection1,2,3,5,7,8,9,22
Adrenal Support4,6,9,10,11,17,18,19
Immunity Support9,11,12,13,14,15,16,20,21
Dosage and Direction
Take 1 capsules before breakfast or lunch once daily
Take 1 more capsules before dinner when experiencing fatigue, cold or flu, or during travel period.
Scientific reference
Tae-Hwan Kim, Yun-Sil Lee, Chul-Koo Cho Protective Effect of Ginseng on Radiation-Induced DNA Double Strand Breaks and Repair in Murine Lymphocytes. Cancer Biotherapy and Radiopharmaceuticals. January 2009, 11(4): 267-272
Ee-Hwa Kim, Mi-Hyeon Jang, Min-Chul Shin. Protective Effect of Aqueous Extract of Ginseng radix against 1-Methyl-4-phenylpyridinium-Induced Apoptosis in PC12 Cells. Biological and Pharmaceutical Bulletin Vol. 26 (2003): 1668-1673
Hikokichi Oura, Shoichi Nakashima, Kinji Tsukada. Effect of Radix Ginseng Extract on Serum Protein Synthesis. Chemical and Pharmaceutical Bulletin Vol. 20 (1972): 980-986
Sergiy Oliynyk and Seikwan. Actoprotective effect of ginseng: improving mental and physical performance Ginseng Res Vol. 37, No. 2, 144-166 (2013)
Hikokichi Oura, Kinji Tsukada, Hitomi Nakagawa. Effect of Radix Ginseng Extract on Cytoplasmic Polysome in Rat Liver. Chemical and Pharmaceutical Bulletin Vol. 20 (1972): 219-225
Yangha Kim, Eun-Ha Choi, Miae Doo Anti-stress effects of ginseng via down-regulation of tyrosine hydroxylase (TH) and dopamine β-hydroxylase (DBH) gene expression in immobilization-stressed rats and PC12 cells Nutrition Research and Practice (Nutr Res Pract) 2010;4(4):270-275
Role of transforming growth factor-β pathway in the mechanism of wound healing by saponin from Ginseng Radix rubra. British Journal of Pharmacology Vol.125(1998): 255–262
Young-sam Kwon, Kwang-ho Jang, In-ho Jang. The Effects of Korean Red Ginseng (Ginseng Radix Rubra) on Liver Regeneration after Partial Hepatectomy in Dogs. Journal of veterinary Science2003; 4(1): 83-92
S.K.F. Chong, V.G. Oberholzer Ginseng – is there a use in clinical medicine? Postgraduate Medical Journal (1988) 64, 841-846
Do-Hoon Kima, Yoo-Sun Moonb, Jun-Sub Jungc. Effects of ginseng saponin administered intraperitoneally on the hypothalamo-pituitary-adrenal axis in mice Neuroscience Letters Volume 343, Issue 1, 29 May 2003, Pages 62–66
Sivula, Neal J. Research and Clinical Applications of Ren Shen (Ginseng). American Journal of Traditional Chinese Veterinary Medicine. Aug2012, Vol. 7 Issue 2, p33-37. 5p.
L. Zhai, Y. Li, W. Wang Enhancement of humoral immune responses to inactivated Newcastle disease and avian influenza vaccines by oral administration of ginseng stem-and-leaf saponins in chickens. Poultry Science Vol 90(9) 1955-1959.
T.K. Kim, K.M. Ko. Antioxidant and Immunomodulatory Activities of Chinese Tonifying Herbs. Pharmaceutical Biology Vol 40 (5) 2002
Butt MS, Pasha I, Sultan MT. Black pepper and health claims: a comprehensive treatise. Crit Rev Food Sci Nutr. 2013;53(9):875-86
Singletary Keith. Black Pepper: Overview of Health Benefits. Nutrition Today: January/February 2010 Vol 45(1) 43-47
Supinya Tewtrakul, Sanan Subhadhirasakul, Sopa Kummee. Anti-allergic activity of compounds from Kaempferia parviflora. Journal of Ethnopharmacology February 2008 Vol.116 (1)191–193
Emilia Nocerino, Marianna Amato, Angelo A. Izzo The aphrodisiac and adaptogenic properties of ginseng Fitoterapia71(2000) S1-S
Susumu HIAI, HIROOMI YOKOYAMA, HIKOKICHI OURA Stimulation of Pituitary Adrenocortical system of Ginseng saponin Endocrinol. Japon. 1979, 26 (6), 661-665
Patcharee Pripdeevech a, Kitsada Pitija b, Chaiyong Rujjanawate Adaptogenic-active components from Kaempferia parviflora rhizomes Food Chemistry 132 (2012) 1150–1155
Masood Sadiq Butta, Imran Pashaa, Muhammad Tauseef Sultanb. Black Pepper and Health Claims: A Comprehensive Treatise. Critical Reviews in Food Science and Nutrition Vol 53(2013) :875-886
Keith Singletary. Black Pepper: Overview of Health Benefits. Nutrition Today: January/February 2010 Vol 45:43-47
CD Coldren, P Hashim, JM Ali. Gene expression changes in the human fibroblast induced by Centella asiatica triterpenoids. Planta medica (2003) 73:625-632