Article by DR. PIYAWAT POOMSUWAN
บทความโดย นพ.ปิยะวัฒน์ ภูมิสุวรรณ
English (Click)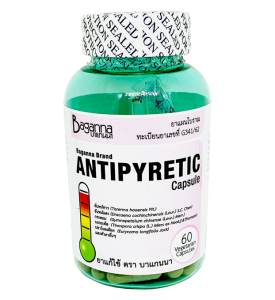 ในขณะนี้ทุกคนกังวลกับโรคระบาดทั้ง COVID-19, ไข้หวัดใหญ่สายพันธุ์A และ ไข้หวัดตามฤดูกาล วิธีรับมือกับโรคร้ายที่แพร่ระบาดวิธีที่ดีที่สุดคือการป้องกันตัวเอง และหากเราได้รับเชื้อโรคแล้วสิ่งที่จะฆ่าโรคร้ายที่ดีที่สุดคือภูมิคุ้มกันของเราเอง
ยาแก้ไข้ Antipyretic capsule ของ Piyawat Clinic ได้รับการพัฒนาขึ้นโดยใช้สารธรรมชาติ 100% ด้วยฤทธิ์ของสารธรรมชาติที่มีงานวิจัยในการลดการอักเสบ( 1-4)และเพิ่มภูมิคุ้มกัน(5-11)จึงมีสรรพคุณในการลดไข้และต่อต้านเชื้อ
ส่วนประกอบ : Tarenna hoaensis(White Sandalwood), Dracaena cochinchinensis(Dragon's blood), Gymnopetalum chinense, Tinospora crispa(Gaduchi), Eurycoma longifolia Jack(Longjack)
คำแนะนำในการใช้ : ควรรับประทานยาเมื่อเริ่มมีอาการ เช่น มีไข้ ครั่นเนื้อครั่นตัว ปวดหัว หรือเจ็บคอ
ขนาดรับประทาน
ผู้ใหญ่ รับประทาน 3แคปซูล วันละ 4เวลา ก่อนอาหารเช้า-กลางวัน-เย็น และ ก่อนนอน
เด็ก อายุ 6-12 ปี รับประทานครั้งละ 1-2 แคปซูล วันละ 4เวลา ก่อนอาหารเช้า-กลางวัน-เย็น และ ก่อนนอน
หมายเหตุ : สามารถหยุดรับประทานได้ทันทีหลังจากหายจากไข้ ครั่นเนื้อครั่นตัว ปวดหัว หรือเจ็บคอ
ยาแก้ไข้ Antipyretic capsule ได้รับการขึ้นทะเบียน อย. เป็นยาสามัญประจำบ้านแผนโบราณ ได้รับการตรวจสอบเชื้อและสารปนเปื้อนตามมาตรฐานของการผลิตยา
ขนาดบรรจุ 60 แคปซูล
ราคา 790บาท
Reference ข้อมูลอ้างอิง
Ihsan Safwan Kamarazaman, Zulkhairi Hj. Amom, Rasadah Mat Ali. Protective effects of Tinospora crispa extracts on H2O2-induced oxidative stress and TNF-α-induced inflammation on human umbilical vein endothelial cells (HUVECs). Journal of Medicinal Plants Research Vol. 6(15), pp. 3013-3021, 23 April 2012
Regina Lourdes B. Hipol, Maria Faye Nenette M. Cariaga, Roland M. Hipol. Anti-inflammatory activities of the aqueous extract of the stem of Tinospora crispa. Journal of Nature Studies 11 (1&2): 88-95
Young Min Han, Sang-Uk Woo, Min Sun Choi. Antiinflammatory and analgesic effects of Eurycoma longifolia extracts. Arch. Pharm. Res. (2016) 39:421–428
P. Vaeghese, C. Ambrose, S.C. Jin. Antioxidant and anti-inflammatory activity of Eurycoma Longifolia Jack, A traditional Medicinal plant in Malaysia. International Journal of Pharmaceutical Sciences and Nanotechnology vol.5; Issue4 January-March2013
Areeful Haquea, Ibrahim Jantana, Syed Nasir Abbas Bukharib. Tinospora species: An overview of their modulating effects on the immune system. Journal of Ethnopharmacology 207 (2017) 67–85
Waqas ahmad, Ibrahim Jantan, Endang Kumolosasi. Immunostimulatory effects of the standardized extract of Tinospora crispa on innate immune responses in Wistar Kyoto rats. Drug Design, Development and Therapy 2015:9 2961–2973
Walaa Najm Abood, Iman Fahmi, Mahmood Ameen Abdulla. Immunomodulatory effect of an isolated fraction from Tinospora crispa on intercellular expression of INF-ꝩ, IL-6 and IL-8. BMC Complementary and Alternative Medicine 2014, 14:205
Waqas Ahmada, Ibrahim Jantanb, Endang Kumolosasib. Immunomodulatory effects of Tinospora crispa extract and its major compounds on the immune functions of RAW 264.7 macrophages. Journal of Medicinal Plants Research Vol. 6(15), pp. 3013-3021, 23 April 2012
Lutfi Chabib, Wildan Khairi Muhtadi, Muhammad Ikhwan Rizki. Potential medicinal plants for improve the immune system from Borneo Island and the prospect to be developed as nanomedicine. MATEC Web of Conferences 154, 04006 (2018)
Surajit Bhattacharjee, Gaurav Gupta, Parna Bhattacharya. Quassin alters the immunological patterns of murine macrophages through generation of nitric oxide to exert antileishmanial activity. Journal of Antimicrobial Chemotherapy (2009) 63, 317–324
Aminda Nur Arifah, Nurkhasanah Fakultas Farmasi. The effect of Ethyl Acetate Fraction of Ethanolic extract of Pasak Bumi (Eurycoma longifolia Jack) on macrophages phagocytic activity in vitro. Pharmaçiana, Vol. 4, No. 1, 2014: 9-14
---
Piyawat Clinic's Antipyretic capsule
At this time, everyone is worried about the outbreak, including COVID-19, influenza A and seasonal flu. There are currently no vaccines to prevent COVID-19. The best way to deal with infectious diseases is to protect yourself. If you get infected with these germs, they can be destroyed by improving your own immunity.
Piyawat Clinic's Antipyretic capsule has been developed using 100% natural ingredients. The selected ingredients have scientific researches supporting for their anti-inflammatory(1-4) and immunomodulatory(5-11) properties which results in the antipyretic and anti-viral effects.
Ingredients: Tarenna hoaensis(White Sandalwood), Dracaena cochinchinensis(Dragon's blood), Gymnopetalum chinense, Tinospora crispa(Gaduchi), Eurycoma longifolia Jack(Longjack)
Instructions for use: take the medicine when started having symptoms such as fever.
Dosage
Adults or children over 12 year old take 3 capsules 4 times a day before breakfast – lunch – dinner and before bedtime.
Children aged 6-12 years take 1-2 capsules at a time, 4 times a day before breakfast-lunch-dinner and before bedtime.
Note: Can stop eating immediately when the fever is gone.
Antipyretic capsule has been passed FDA registration as an herbal medicine. This herbal medicine has been tested for germs and contaminant according to standards of pharmaceutical manufacturer.
Packaging size 60 capsules.
Price 790 Baht.
Reference
Ihsan Safwan Kamarazaman, Zulkhairi Hj. Amom, Rasadah Mat Ali. Protective effects of Tinospora crispa extracts on H2O2-induced oxidative stress and TNF-α-induced inflammation on human umbilical vein endothelial cells (HUVECs). Journal of Medicinal Plants Research Vol. 6(15), pp. 3013-3021, 23 April 2012
Regina Lourdes B. Hipol, Maria Faye Nenette M. Cariaga, Roland M. Hipol. Anti-inflammatory activities of the aqueous extract of the stem of Tinospora crispa. Journal of Nature Studies 11 (1&2): 88-95
Young Min Han, Sang-Uk Woo, Min Sun Choi. Antiinflammatory and analgesic effects of Eurycoma longifolia extracts. Arch. Pharm. Res. (2016) 39:421–428
P. Vaeghese, C. Ambrose, S.C. Jin. Antioxidant and anti-inflammatory activity of Eurycoma Longifolia Jack, A traditional Medicinal plant in Malaysia. International Journal of Pharmaceutical Sciences and Nanotechnology vol.5; Issue4 January-March2013
Areeful Haquea, Ibrahim Jantana, Syed Nasir Abbas Bukharib. Tinospora species: An overview of their modulating effects on the immune system. Journal of Ethnopharmacology 207 (2017) 67–85
Waqas ahmad, Ibrahim Jantan, Endang Kumolosasi. Immunostimulatory effects of the standardized extract of Tinospora crispa on innate immune responses in Wistar Kyoto rats. Drug Design, Development and Therapy 2015:9 2961–2973
Walaa Najm Abood, Iman Fahmi, Mahmood Ameen Abdulla. Immunomodulatory effect of an isolated fraction from Tinospora crispa on intercellular expression of INF-ꝩ, IL-6 and IL-8. BMC Complementary and Alternative Medicine 2014, 14:205
Waqas Ahmada, Ibrahim Jantanb, Endang Kumolosasib. Immunomodulatory effects of Tinospora crispa extract and its major compounds on the immune functions of RAW 264.7 macrophages. Journal of Medicinal Plants Research Vol. 6(15), pp. 3013-3021, 23 April 2012
Lutfi Chabib, Wildan Khairi Muhtadi, Muhammad Ikhwan Rizki. Potential medicinal plants for improve the immune system from Borneo Island and the prospect to be developed as nanomedicine. MATEC Web of Conferences 154, 04006 (2018)
Surajit Bhattacharjee, Gaurav Gupta, Parna Bhattacharya. Quassin alters the immunological patterns of murine macrophages through generation of nitric oxide to exert antileishmanial activity. Journal of Antimicrobial Chemotherapy (2009) 63, 317–324
Aminda Nur Arifah, Nurkhasanah Fakultas Farmasi. The effect of Ethyl Acetate Fraction of Ethanolic extract of Pasak Bumi (Eurycoma longifolia Jack) on macrophages phagocytic activity in vitro. Pharmaçiana, Vol. 4, No. 1, 2014: 9-14