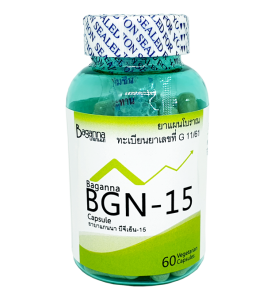 BGN-15 เป็นตำรับยาจากสมุนไพรซึ่งมีงานวิจัยพิสูจน์ว่ามีประโยชน์กับผู้ป่วยเบาหวาน สมุนไพรในตำรับนี้นอกจากจะช่วยลดน้ำตาลในเลือดแล้ว ยังช่วยบำรุงสุขภาพโดยรวมไปด้วย
ส่วนประกอบสำคัญ
Salacia Chinensis1,2,3,4,5,6,7,8,9
Tribulus terrestris10,11,12,13,14
Albizia myriophylla15,16,17
Tinospora crispa18,19,20,21,22
ขนาดและวิธีรับประทาน
รับประทานครั้งละ 2-3แคปซูล วันละ 2 ครั้ง หลังอาหารเช้า-เย็น
สำหรับผู้มีปริมาณน้ำตาลในเลือดสูงควรปรึกษาแพทย์เพื่อปรับขนาดรับประทาน
BGN-15 is an herbal medicine combined herbs that has been scientifically proven to be beneficial to a diabetic patient. The formulation contains herbs that not only help reduce blood sugar but also synergistically improve health overall.
Active Ingredients
Salacia Chinensis1,2,3,4,5,6,7,8,9
Tribulus terrestris10,11,12,13,14
Albizia myriophylla15,16,17
Tinospora crispa18,19,20,21,22
Dosage and administration
Take 2-3 capsules twice daily half an hour before breakfast and dinner.
For the patient suffering from chronic or severe diabetes, please consult doctor for dosage.
References
Singh RG, Rathore SS, Kumar R; Usha, Agarwal A, Dubey GP. Nephroprotective role of salacia chinensis in diabetic CKD patients: a pilot study. Indian J Med Sci. 2010 Aug;64(8):378-84.
Sellamuthu PS, Arulselvan P, Fakurazi S, Kandasamy M. Beneficial effects of mangiferin isolated from Salacia chinensis on biochemical and hematological parameters in rats with streptozotocin-induced diabetes. Pak J Pharm Sci. 2014 Jan;27(1):161-7.
Ramakrishna D., Shashank .A.T., Shinomol George. K. Salacia Sps – A Potent Source of Herbal Drug for Antidiabetic and Antiobesity Ailments : A Detailed Treatise. International Journal of Pharmacognosy and Phytochemical Research 2015; 7(2); 374-382
Periyar Selvam Sellamuthu, Palanisamy Arulselvan, Balu Periamallipatti Muniappan. Effect of mangiferin isolated from Salacia chinensis regulates the kidney carbohydrate metabolism in streptozotocin-induced diabetic rats. Asian Pacific Journal of Tropical Biomedicine (2012)S1583-S1587
Periyar Selvam Sellamuthu, Palanisamy Arulselvan, Balu Periamallipatti Muniappan. Mangiferin from Salacia chinensis Prevents Oxidative Stress
and Protects Pancreatic b-Cells in Streptozotocin-Induced Diabetic Rats. J Med Food 2013, 16 (8), 719–727
Jun-ichi Shirakawa, Shoutaro Arakawa, Tomoya Tagawa. Salacia chinensis L. extract ameliorates abnormal glucose metabolism and improves the bone strength and accumulation of AGEs in type 1 diabetic rats. Food Funct., 2016, 7, 2508–2515
A. Deokate, S. S. Khadabadi. Phytopharmacological aspects of Salacia chinensis. Journal of Pharmacognosy and Phytotherapy Vol. 4(1), pp. 1-5, January 2012
Hisashi MATsuDA, Tbshio MoRiKAwA, Iwao ToGucHiDA. Structural Requirements of Flavonoids and Related Compounds for Aldose Reductase lnhibitory Activity. Chem. Pharm. Bull .50(6) 2002 788-795
Toshio Morikawa, Junji Akaki, Kiyofumi Ninomiya. Salacinol and Related Analogs: New Leads for Type 2 Diabetes Therapeutic Candidates from the Thai Traditional Natural Medicine Salacia chinensis. Nutrients 2015, 7(3), 1480-1493
Ama Amin, Mohamed Lotfy, Mohammed Shafiullah, Ernest Adeghate. The Protective Effect of Tribulus terrestris in Diabetes. Ann. N.Y. Acad. Sci. 1084: 391–401 (2006).
Harminder Singh Lamba, Chandra Shekhar Bhargava,Mayank Thakur. α-Glucosidase and Aldose Reductase inhibitor Activity in vitro and Antidiabetic Activity in Vivo of Tribulus Terretris L. Int J Pharm Pharm Sci, Vol 3, Issue 3, 2011, 270-272
W H El-Tantawy, L A Hassanin. Hypoglycemic and hypolipidemic effects of alcoholic extract of Tribulus alatus in streptozotocin-induced diabetic rats: A comparative study with T. terrestris. Indian Journal of Experimental Biology Vol 45, 2007, 785-790
Saurabh Chhatre, Tanuja Nesari, Gauresh Somani. Phytopharmacological overview of Tribulus terrestris. Phcog Rev 2014; 8:45-51
K. Rai. A Review on Some Antidiabetic Plants of India. Ancient Science of Life. Vol No. XIV No.3, January 1995, Pages 168 – 180
Azmah Saat, Nurmawati Syakroni, Rozita Rosli. Potential Hypoglycemic Property of Albizia Myriophyla in Streptozotocinnicotinamide Induce Diabetic Rats. Int J Pharm Pharm Sci, 2012 Vol 4, Issue 3, 427­431
Azmah Saat, Nurmawati Syakroni, Rozita Rosli. Potential Hypoglycemic Property of Albizia Myriophyla and Virgin Coconut oil in Streptozotocinnicotinamide Induce Diabetic Rats. Int J Pharm Pharm Sci, Vol 5, Issue 4, 199-202
Oratai Neamsuvan, , Nareerat Madeebing, Latepah Mah A survey of medicinal plants for diabetes treating from Chana and Nathawee district, Songkhla province, Thailand. Journal of Ethnopharmacology 2015 Vol174: 82–90
Chawanya Sangsuwan, Suthipol Udompanthurak, Sathit Vannasaeng, Visanu Thamlikitkul. Randomized Controlled Trial of Tinospora crispa for Additional Therapy in Patients with Type 2 Diabetes Mellitus J Med Assoc Thai 2004; 87(5): 543-6
Hamdan Noor, Stephen J.H. Ashcroft. Pharmacological characterisation of the antihyperglycaemic properties of Tinospora crispa extract. Journal of Ethnopharmacology 62(1998) 7–13
Chi-Tun Ruana, Sio-Hong Lamb, Shoei-Sheng Leeb. Hypoglycemic action of borapetoside A from the plant Tinospora crispa in mice. Phytomedicine 20 (2013) 667– 675
Chi-Tun Ruana, Sio-Hong Lamb, Tzong-Cherng Chi. Borapetoside C from Tinospora crispa improves insulin sensitivity in diabetic mice. Phytomedicine 19 (2012) 719–724
Noor, P. Hammonds,R. Sutton. The hypoglycaemic and insulinotropic activity of Tinospora crispa: studies with human and rat islets and HIT-T15 B cells. Diabetologia (1989) 32:354-359
Sio-Hong Lam, Chi-Tun Ruan, Po-Hung Hsieh. Hypoglycemic Diterpenoids from Tinospora crispa. J. Nat. Prod. 2012, 75, 153−159