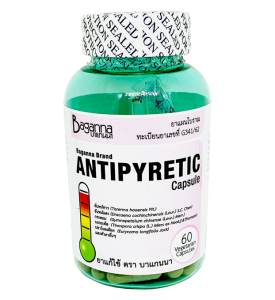 Click for English
現在、コロナウィルス感染症(COVID19)、インフルエンザA型、季節性インフルエンザを含む感染症が流行し、誰もが気の休まらない状況です。今のところ、コロナウィルス感染症(COVID-19)を予防するワクチンはありません。感染症に対処する為に1番必要な事は、
【自分自身を守ること】です。
もし、感染した場合は、自身の免疫力を向上させることによって、細菌感染を弱めることができます。
ピヤワットクリニックの解熱カプセルは、100%天然由来成分を使用し、開発されました。 厳選された成分は、抗炎症や免疫調整の特性を科学的に研究し、解熱と抗ウイルスへの効果があるという結果が出ています。
原材料:ホワイトサンダルウッド(Tarenna hoaensis)、レッドサンダルウッド(Dracaena cochinchinensis)、Gymnopetalum chinense、イボツヅラフジ(Tinospora crispa)、ナガエカサ(Eurycoma longifolia Jack)、等
[使用方法] 発熱の症状が出始めに、薬を服用してください。
 (投与量)
成人または12歳以上: 毎食前および就寝前、1日4回 3カプセルを服用
6〜12歳の小児: 毎食前および就寝前、1日4回 1〜2カプセルを服用
この解熱カプセルは、製薬メーカーの基準に従って細菌と汚染物質についてテストされ、漢方薬としてUS FDA(米国食品医薬品局)に認証されています。
Piyawat Clinic's Antipyretic Capsule
At this time, everyone is worried about the outbreak, including COVID-19, influenza A and seasonal flu. There are currently no vaccines to prevent COVID-19. The best way to deal with infectious diseases is to protect yourself. If you get infected with these germs, they can be destroyed by improving your own immunity.
Piyawat Clinic's Antipyretic capsule has been developed using 100% natural ingredients. The selected ingredients have scientific researches supporting for their anti-inflammatory and immunomodulatory properties which results in the antipyretic and anti-viral effects.
Ingredients: White Sandalwood (Tarenna hoaensis), Red Sandalwood (Dracaena cochinchinensis), Gymnopetalum chinense, Tinospora crispa, Eurycoma longifolia Jack and other drugs.
Instructions for use: take the medicine when started having symptoms such as fever
Dosage
Adults or children over 12 year old take 3 capsules 4 times a day before breakfast – lunch – dinner and before bedtime.
Children aged 6-12 years take 1-2 capsules at a time, 4 times a day before breakfast-lunch-dinner and before bedtime
Antipyretic capsule has been passed FDA registration as an herbal medicine. This herbal medicine has been tested for germs and contaminant according to standards of pharmaceutical manufacturer.
Price 790 THB (Bottle 60 capsules)